Nickii Santiiago
Just a reminder!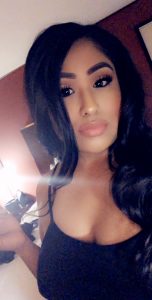 To fully enjoy a meeting, you must be freshly showered, well-groomed, smell nice, and have minty-fresh breath. Please be respectful and always be a gentleman. Your kindness, generosity, and chivalry will be appreciated and rewarded.
Please do not over stay our date. If you would like to extend our time, please ask me if I have additional time available and provide additional donation for the time you would like to spend.
No gratuities are ever expected, but for if you would like to surprise me with a gift then please feel free to ask or get inspiration from my wish list.
The donations are for my time and companionship only and they are not negotiable.
I am very selective to whom I choose to spend my time with and prefer to limit my time to a small circle of high-quantity. Rather quality dates than quantity. Because I want to savor our time together, I prefer extended engagements for unrushed conversations and true relaxation.
Let's escape the busy world for a while and just enjoy each others company! 
If you are the kind of gentleman that demands nothing but the best, then send me an invitation to join you!